Google ad extensions do exactly what their name indicates: they widen the scope of your ad. Ad extensions add information about your company to the main body of your search ad.
Ad extensions provide you the opportunity to occupy more space on the SERP by adding extra links to your website, exclusive deals and discounts, and other details that might attract visitors and improve your click-through rates (CTRs).
Why should we use Google Ad Extensions
Ad extensions allow us to add extra details, larger ad text lets us make a strong case why users should click on your ad and it will also increase the interaction rate on the ad.
Ad extensions help us to increase SERP visibility. Extended ads are more effective because of their larger size
Improved ad ranking, Google takes into account a number of factors, such as CTR, relevancy, and landing page experience, to determine where your ad will appear. Because it helps Google to provide a greater choice of ad options, using ad extensions alone will boost your rank.
Ad extensions can help lower your cost-per-click (CPC) by increasing your CTR, which means you're getting more out of your paid ad spend.
There are 2 general extensions categories i.e manual and automated extensions:
Manual Extensions : These types of extensions require manual setup, most of the extensions are manual Examples: sitelink, callout, structured snippet extension etc.
Automated extensions: From February 2022, Google made various modifications to automated extensions, including the ability to display them alongside manually added extensions such as sitelinks, callouts, and structured snippets.This allows your ad to take up more space on the SERP and produce more clicks. Examples: Dynamic sitelink extensions, Dynamic structured snippet extensions, Dynamic callout extensions and Seller ratings extensions.
Types Of Google Ads Extensions
1. Sitelink extensions
Sitelink extensions in searches show additional links below the primary search ad.
These links take visitors to other pages on your website that you want them to view.
When directing a prospect to a landing page, you must match their goal as accurately as possible. You'll lose a conversion if you send someone looking for curtains to a landing page that lists every single one of your products.
That is why sitelinks are so effective. Sitelink extensions let you to attract Search prospects with deep links that go to specific pages on your website at no additional cost.
Sitelink extensions make it easier for users to find exactly what they're looking for and can considerably improve your CTR.

2. Callout extension
Callout extensions are 25-character text snippets that describe the most interesting and useful aspects of the business, products, or services.
Whether you're promoting free shipping on orders over a particular amount or 24-hour customer support, Google Ads callout extensions provide you the extra SERP space to do so.

3.Structured Snippet Extensions
Structured snippets focus on key details you want customers to know about a given product or set of products and services.
The key advantage of structured snippets is that they generate more quality leads. Why? Because when consumers already know what you want to provide them, they are eager to convert once they click and land on your site.
Specific features, types or categories, and destinations or locations are presented via structured snippets.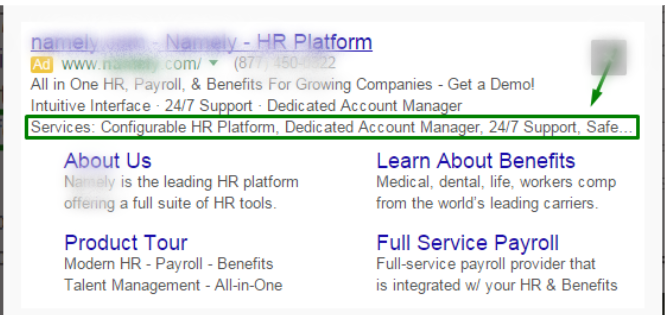 4. Price Extensions
Price extensions enable you to communicate costs up front, which promotes transparency and encourages user trust.
By the time they arrive at your website, users are more informed and more likely to make a purchase.

5. Call Extensions
Call extensions allow you to inspire potential clients to call your business directly. These offer huge chances for genuine connection with prospects, which is especially crucial for advertisers who need to overcome early hesitation (e.g., lawyers, car dealers, academic tutors, etc.)
Call extensions are available in two varieties: your phone number (on desktop) and a call button (on mobile).

6. Location Extensions
Location extensions list your location on its own line, making it simpler to find your location(s), a map to it, or the distance to it. For phone users, these may include a mobile number or a call button.
This automatic extension is great for any business that relies on in-person transactions, such as restaurants, retail stores, and service providers such as barbers or beauty salons.
7. Promotion Extensions
Promotion extensions, which show up below your ad and use the price tag icon or deal in bold to highlight deals and promotions.
To provide users more information, you can also display up to two lines of copy alongside them.
You can apply pre-populated event tags, such as Black Friday or the end of the summer, and you can display promotion extensions on certain dates, days, or even hours.
8. Seller Ratings Extensions
This is an automated generated extension created by Google,with seller ratings extensions, you may promote your company's standing and build trust.
In order to create a single rating on a five-star scale, Google collects reviews from reliable business review websites and displays these ratings on search ads.
If your business has a higher rating then it will encourage users to click on the ads.
9. Image Extensions
You can use relevant images in addition to their search ads with image extensions, which helps with performance.
This kind of extension is not available to all advertisers, and they must also fulfil a number of requirements, such as having a history of compliance, a Google Ads account in an eligible vertical, and running active campaigns.
10. App Extensions
App extensions increase the visibility of your app and make it simple for users to download it straight from the search ad.
To encourage prospective users to download your app, app extensions are used. they are displayed for mobile searches.
Conclusion
Ad extensions are an effective option if you're searching for a quick approach to boost CTR, attract more website visitors, and convert more prospects.
Every business, regardless of the industry it operates in, can use one of the different varieties available.
Whichever will serve your needs the best is up to you, but one thing is for sure: When used correctly, they'll help you to generate more high-quality leads and make the most of your PPC budget.