Snapchat is an online application that is compatible with both iOS & Android devices. Previously the basic concept of this app was to share video, picture, or text messages which will be available for a certain period of time. Slowly this social media platform became popular among individuals and later businesses also started incorporating it. They began to share short videos, live chats, instant messages which are known as the "story".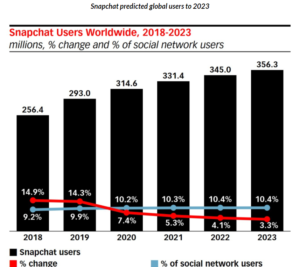 BENEFITS OF MARKETING ON SNAPCHAT
Growing Audiences
As compared with other social media platforms which are experiencing stagnancy in the last few years, Snapchat is still growing its audiences. People across the world are creating content and joining Snapchat for different experiences.
Brand Awareness
Every firm is building its brand with the first step of spreading brand awareness. Brands are looking for new ways of marketing and here comes Snapchat with ample options like discovery, stories, and filters. Using these options brands can create more attractive ads to display.
Increase in User Engagement
Snapchat has a feature that is Story Replies through which a user can reply to a specific video or photo by just swiping up and can start the chat in a new window. This will help companies to start the polls, conduct contests, and have Q&A discussions with their interested audiences.

BEHIND THE SCENE STORIES
As Snapchat allows us to share Stories, businesses can share life stories of their work culture, events that are happening. This will grab the audience's attention towards your brand. It is easy to share information through Story Ads rather than providing long content to which users feel lazy to read.
LIMITED TIME OFFERS
Snapchat is a very good option for flash sales. A story can be created promoting the flash sales and later businesses don't have to worry about removing the content from the platform as the story itself gets expired in 24hrs.